STORM: Hurricane Gonzalo hit UK unexpectedly with heavy rain showers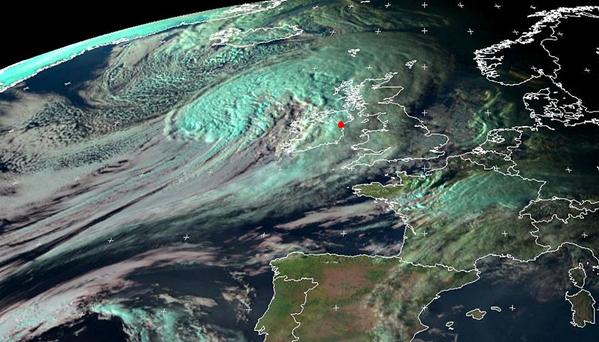 Hurricane Gonzalo last night hit the UK as expected – with reports of fierce winds and heavy rain showers in parts of the north west. The storm is expected to move across much of the UK through the night. But forecasters predict the worst of the storm will affect commuters during rush hour this morning.
Britain braced for 100mph winds
Powerful winds of 100mph are expected tonight as Hurricane Gonzalo hits Britain.
Commuters are expected to be hit by gale force winds and as much as a fortnight's worth of rain is expected in just eight hours causing problems on roads and railway lines.
Gonzalo, now a post-tropical cyclone, is expected to hit at around 10pm tonight with a 300-mile wide core but powerful winds across a wider 800-mile wide area.
The heavy downpours could lead to dangerously slippery roads, poor visibility, cancelled trains and flash flooding during tomorrow morning's rush hour.
The remnants of Gonzalo have led the Met Office to issue 'yellow' weather warnings for much of northern England and Wales.
The Met Office warned of "disruption on roads, the rail network and at sea," with falling trees and standing water on roads as peak winds hit the morning rush-hour tomorrow in the west Midlands and North-West, with strong afternoon rush-hour gusts in the East.
Read more at Mirror for updates as the storm reached the UK last night.
Posted on October 21, 2014, in latest news, travel, UK, Weather and tagged Airlines, Britain, forecast, heavy rain, Hurricane, northern England, prediction, railway, roads, storm, Wales, winds. Bookmark the permalink. Leave a comment.